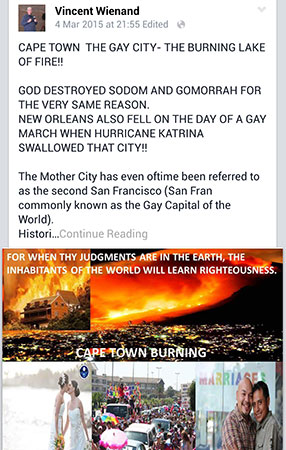 A pastor in Port Elizabeth believes that the fires that have devastated Cape Town this week are the fault of gay and lesbian Capetonians.
In a Facebook update posted on Wednesday, Pastor Vincent Wienand from Revelation Ministries proclaimed that Cape Town is "The gay city – the burning lake of fire!"
Along with a montage of images of the city's slopes ablaze and gay and lesbian couples, he wrote that "The Mother City has oftime been referred to as the second San Francisco (San Fran commonly known as the Gay Capital of the World)."
Wienand pronounced that, "God destroyed Sodom and Gomorrah for the very same reason."
He further claimed that New Orleans "also fell on the day of a gay march when Hurricane Katrina swallowed that city!"
Wienand appears to have now taken down the post, which can no longer be found on his timeline. Mambaonline was able to take a screen grab of the update before it was removed.
Many of the good pastor's posts on his Facebook page concern the apocalyptic end of times, which he appears to believe is near. He even warned that a solar eclipse last year was a bad omen that foretold our imminent demise.
Blaming gays and lesbians for incurring god's wrath through natural disasters or tragedies is nothing new. In 2013, Western Cape Pastor Oscar Bougardt claimed that Oscar Pistorius killing his girlfriend Reeva Steenkamp was a curse for him "openly supporting homosexuals".
The previous year, Pastor Errol Naidoo said that gays and lesbians had created a "culture of death" that led to the Marikana Massacre.
LGBT people have also been blamed for last year's outbreak of the Ebola virus in Liberia, the Boston Marathon bombings and even the biblical floods.
According to News 24, around 5,500 hectares of land have been burned in the Cape Town fires, which broke out on Sunday. Thirteen properties and homes have been damaged and 500 people have been evacuated. It's believed that a discarded lit cigarette led to the blaze.
The post PE pastor blames gays for Cape Town fires appeared first on MambaOnline - Gay South Africa online.