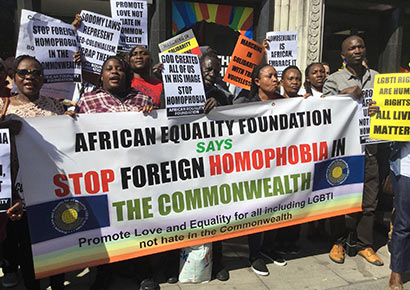 Protesters have condemned Commonwealth leaders for refusing to discuss the persecution of LGBTQ people who live in Commonwealth countries where being gay is a crime.
On Thursday, around over 120 LGBTQ rights defenders protested outside Marlborough House, the Commonwealth HQ in London, where Commonwealth heads of state gathered for their biennial summit.
The activists demanded decriminalisation in 36 of the 53 Commonwealth nations that still outlaw homosexuality. Nine of these Commonwealth countries have life imprisonment for gay sex and in parts of two countries, Nigeria and Pakistan, LGBTQ people can be put to death.
While Prime Minister Theresa May's historic apology for Britain's role in exporting colonial anti-gay legislation to many Commonwealth countries was a victory for activists, the issue of LGBTQ equality was once again omitted from the summit's official discussions.
"The Commonwealth summit has for six decades refused to debate, let alone support, LGBT+ equality," said protest organiser Peter Tatchell. "This year is no different. Once again, LGBT+ rights have been excluded from the leader's agenda."
The protest was backed by gay Olympian and Commonwealth Games gold medallist Tom Daley, who sent a message of support to the demonstrators.
"Shockingly, half the countries in the world that criminalise homosexuality are in the Commonwealth," said Daley. "I believe the Commonwealth should be a forum that protects the rights of all its citizens and not support governments that make criminals out of at least 100 million people."
Thursday's protest included Commonwealth LGBTQ people who have been driven from their home countries after often violent persecution because of their sexuality or gender identity.
"When I was 18 I was caught with my girlfriend, beaten by neighbours and then arrested by police," said Hope Espoir, from Cameroon. "My nightmare got worse as I was raped in prison. Upon being released I was forced into marriage with a violent man I did not and could not love, as I couldn't suppress my sexuality."
Abbey, who escaped Uganda, said: "I came from hell, with cigarette burns in both my palms and on my legs, scars on my face which resulted from the constant beating. I went through every kind of human degradation."
Edwin Sesange from the African Equality Foundation added: "It is time these 36 Commonwealth countries accepted their LGBT+ citizens. Homophobia should be expunged from the Commonwealth. Anti-gay laws in Commonwealth countries are mostly the result of colonialism. They should be scrapped."
The protest was also attended by LGBTQ advocate Jason Jones whose legal challenge led to Trinidad and Tobago's High Court ruling last week that the criminalisation of consensual adult same-sex activity is unconstitutional.
Also last week, campaigners delivered a petition to Commonwealth leaders signed by 104,115 people calling for an end to the criminalisation of homosexuality and the persecution of LGBTQ people.
The post Anger as LGBTQ rights ignored by Commonwealth leaders appeared first on MambaOnline - Gay South Africa online.