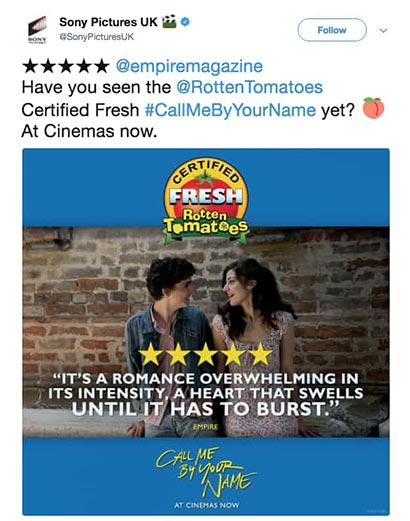 In a bizarre move, Sony Pictures UK appears to be trying to mislead film-goers by presenting a gay love story as a straight one.
The distributor has been slammed for promoting the controversial but highly acclaimed gay romance Call Me by Your Name with an image of an opposite-sex couple.
Based on André Aciman's novel, Call Me by Your Name is a love story and coming of age film about a 17-year-old youth named Elio, played by Timothée Chalamet, who falls for Oliver (Armie Hammer), a 24-year-old American academic, in Italy.
As he develops increasingly powerful and passionate feelings for the older man, Elio also pursues a secondary relationship with a local girl (Esther Garrel).
It's this doomed relationship that Sony chose to highlight in a social media post, using a photo of the two youths instead one depicting the primary gay romance.
The text placed over the image features a quote from Empire magazine's rave review, which reads. "It's a romance overwhelming in its intensity, a heart that swells until it has to burst."
The quote, of course, relates to the affair between Elio and Oliver, which is the focus of the film.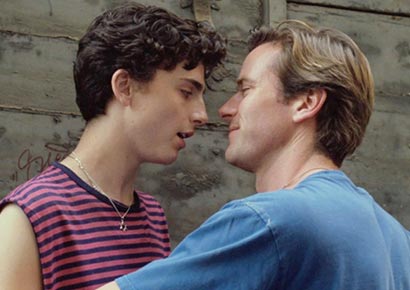 Social media responded by mocking Sony's promo, with users creating humorous 'misleading' posts for other movies – such as using an image of actors Kirsten Dunst to punt Hidden Figures, and Cate Blanchett and Kyle Chandler to promote the lesbian romance Carol.
Admittedly, its other marketing has made the gay relationship somewhat clearer, but with this particular post Sony likely intended to woo a wider audience to see Call Me by Your Name. It also sent a message that queer love is too unpalatable and unappealing to be sold to the public.
Call Me by Your Name, which has generated controversy due to the age gap between the two lead characters, is set to open in South African cinemas in February.
The post Sony accused of "straight-washing" gay movie appeared first on MambaOnline - Gay South Africa online.