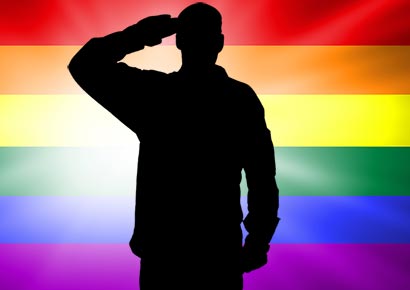 Five transgender military staff members with nearly 60 years of combined service are suing Donald Trump over his threat to ban them from the military.
Trump recently announced on Twitter that "the United States Government will not accept or allow Transgender individuals to serve in any capacity in the U.S. Military".
The shock move was a reversal of the June 2016 decision by the Department of Defense under the Obama administration to allow transgender personnel in the military to be open about their gender.
The department concluded then that the ban served no legitimate purpose and that open service by transgender people would serve the military's best interests. Since that time, thousands of transgender service members have begun to serve openly.
The plaintiffs in the suit currently serve in the Air Force, the Coast Guard, and the Army. Their years of service range from three years to two decades, and include tours in Iraq and Afghanistan.
As a result of the president's statements, they now face dramatic uncertainty about their futures including the potential loss of their professions, livelihoods, and post-military and retirement benefits.
"Last year, the Department of Defense announced that transgender people could serve openly," said one of the plaintiffs. "I was very relieved and came out as transgender to my commanding officers, who were supportive. My experience has been positive and I am prouder than ever to continue to serve. I am married and have three children, and the military has been my life. But now, I'm worried about my family's future."
The complaint, filed on behalf of the plaintiffs by the National Center for Lesbian Rights (NCLR) and GLBTQ Legal Advocates & Defenders (GLAD), is based on the inequity of the reversal of military policy after thousands of service members followed protocol and informed their chain of command that they are transgender.
While Trump's ban has not yet been implemented and no plan to do so has been made public, the plaintiffs argue that his declaration has already had a devastating effect.
"Trump's directive to exclude transgender people from military service has created a tidal wave of harms that have already been felt throughout our armed services. Transgender service members have been blindsided by this shift and are scrambling to deal with what it means for their futures and their families," said Shannon Minter, a transgender legal expert and NCLR Legal Director.
Jennifer Levi, Director of GLAD's Transgender Rights Project, added: "This unjustifiable reversal of policy is devastating to these soldiers and harmful to our country. These plaintiffs put their lives on the line every day for all of us. We can't afford to lose a single one of them."
According to the Williams Institute, there are an estimated 15,500 actively serving transgender members of the US military, making the Department of Defense the largest employer of transgender people in America.
The post Troops sue Trump over transgender military ban appeared first on MambaOnline - Gay South Africa online.