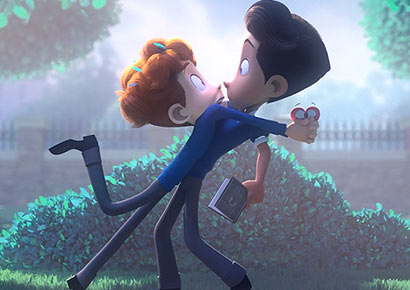 A new animated short film about gay love and heartbreak in school is one of the most heart-warming things you're likely to see anytime soon.
In a Heartbeat was created by Esteban Bravo and Beth David, at the Ringling College of Art and Design in Florida, as their thesis.
It follows Sherwin, who is struggling to come to terms with his crush on Jonathan, the most popular boy in school. In the film, Sherwin is forced to chase after his own heart to stop it from revealing his true feelings to Jonathan, and the entire student body.
In a Heartbeat was made possible through a crowdfunding campaign on Kickstarter and the two animators spent a year and a half working on the film. It has now been viewed an astonishing 14 million times since it was posted on YouTube, just a few days ago.
"Thank you all for your support and encouragement – this film means the world to us, and your kindness and enthusiasm has made this journey all the more meaningful," said the filmmakers in statement.
"It is our great pleasure to share with you this labour of love, and we hope with all our hearts that you enjoy watching it as much as we did making it."
Watch the amazing, moving and lovely In a Heartbeat below.
The post You MUST watch this incredible animated gay love story short film appeared first on MambaOnline - Gay South Africa online.