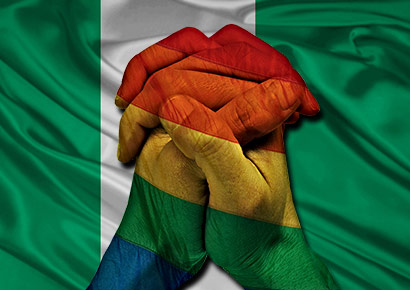 While there's been an increase in tolerance towards LGB people, the vast majority of Nigerians still believe that they are not entitled to basic human rights.
These findings were included in the results of a new survey of 2000 Nigerians that maps the perception and awareness of LGBT people in Africa's most populous nation.
Amongst the key findings of the poll are that a majority of Nigerians surveyed (53%) have some awareness and knowledge of homosexuals either through knowing a friend, family member or someone in their locality who is homosexual or through the media.
Also, 39% of Nigerians accept that lesbian, gay and bisexual (LGB) Nigerians should have equal access to public services such as healthcare, housing and education, which represents a 9% increase from a previous poll conducted in 2015.
This means that 61% of Nigerians believe that LGB people should not be able to access the most basic of human rights.
The poll also found that public support for the Same Sex Marriage Prohibition Act, which makes same-sex relationships and LGB rights organisations illegal, remains high at 90%.
"While this year's poll represents a positive trend in the acceptance of Lesbian, Gay, and Bisexual Nigerians, the continued violations of human rights and support for criminalisation shows there's still a wide gap between increased awareness about diverse sexualities and the importance of human rights that needs to be addressed," commented Bibi Bakare-Yusuf, Chair of The Initiative for Equal Rights (Tiers), which commissioned the survey.
Olumide Makanjuola, Tiers Executive Director, added: "The increasing number of Nigerians who accept the right of Lesbian, Gay and Bisexual to access public healthcare, housing and education is a welcome and encouraging development – yet these finding show that more work remains to be done to achieve social acceptance of sexual minorities and other marginalised people in Nigerian society."
Gay sex is illegal in Nigeria, with penalties including 14 years in prison. Twelve northern states operate under Islamic Sharia law that allows homosexuality to be punished with death by stoning.
The Same-Sex Marriage Prohibition Act, enacted in 2014, outlaws gay marriage and any kind of same-sex relationship with 14 years' imprisonment. The law also punishes establishing, supporting and participating in gay organisations and clubs as well as public displays of same-sex affection with 10 years in prison.
An overview of the survey results
39% of Nigerians agree that homosexuals should have equal access to healthcare, housing and other public goods, a 9% increase from previous polls
53% of Nigerians say they have an awareness of homosexuality through media, family member or friend
At 39% Media remains and is increasingly the most common means through which Nigerians are aware of homosexuals and homosexuality through the media
28% say they don't mind homosexuals, if they don't have to see them
22% of male respondents are aware of someone who is homosexual [friend, family or local person] – compared to 11% for women
13% of Nigerians say they would accept a family who is homosexual, a 2% increase from a previous poll in 2015
At 18% and 17% respectively, younger demographics are more likely to know a lesbian, gay or bisexual person
Support for the Same Sex Marriage Prohibition Act remains high at 90% overall
The post Nigeria | Increase in support for LGB equality but levels of homophobia remain dire appeared first on MambaOnline - Gay South Africa online.