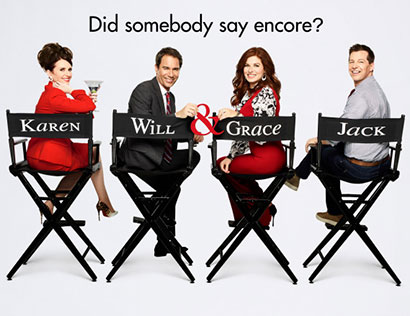 Why throw together snippets from a show for a cheap trailer when you can make a unique and magical five minute creation instead? That's what the cast and crew of Will & Grace just did!
Released on Monday, the trailer for the upcoming revival depicts the iconic sitcom's cast coming together in their old studio set to "decide" if they should make a new series.
Will (Eric McCormack), Grace (Debra Messing), Jack (Sean Hayes) and Karen (Megan Mullally) soon hilariously realise that not much has changed. They, of course, then break out into a musical number; As If We Never Said Goodbye, from Sunset Boulevard.
"Well that was gay," Will aptly comments after they finish their song.
The hit show will soon return for a 12-episode ninth season after it ended in 2006. The idea for a new series came after the huge success of an online reunion mini-episode made to promote Hillary Clinton in the US elections last year. It's since been watched more than 7 million times.
The show's producers revealed that the original sets had been in storage for the last decade and that the cast were keen to reunite.
Will & Grace broke new ground by featuring gay leading characters on prime time television. It was nominated for 83 Emmy Awards, winning 16 of them, including Outstanding Comedy Series.
Former US Vice President Joe Biden said in 2012 that Will & Grace "probably did more to educate the American public [on accepting LGBT people] than almost anything anybody has done so far".
While no dates have yet been confirmed, the show will return later this year. Watch the trailer below.
The post Watch the amazing musical trailer for the return of Will & Grace appeared first on MambaOnline - Gay South Africa online.