The LGBTI community in Kroonstad is said to be living in fear after being allegedly threatened by one of the suspects in the murder of Nonkie Smous.
Last week, a burnt out body, presumed to be the 28-year-old openly lesbian woman, was found in the township of Maokeng. The victim was burned beyond recognition.
According to activists on the ground, three men have been arrested in connection with the murder, with two subsequently released. It is believed that one man remains in custody.
Shockingly, it appears that he has only been charged with robbery after being found in possession of items belonging to Smous.
Mambaonline has as yet been unable to communicate with the authorities in the area and officially verify these reports.
Local LGBTI activist Nthabiseng Mokanyane, who is also a relative of Smous, told Mambaonline that one of the released suspects had allegedly threatened a member of the community. "He said that they are going to kill all the lesbians and take off their heads," she said.
Mokanyane also claims that there have been other incidents of intimidation of activists by some members of the community. "We are doing a lot of activities in the location, we are going to the courts, and we are wearing t-shirts that say 'rest in peace Smous'. So when they see [the activists], they bully them around. We are going to report all these incidents to the police," she said.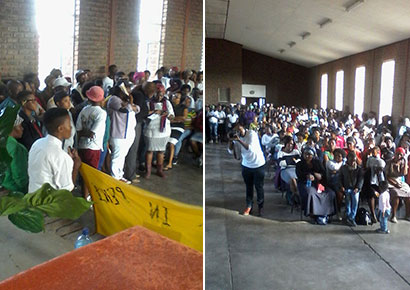 Meanwhile, Smous' family members remain in limbo pending DNA confirmation that the body is indeed that of their relative. "I spoke to her grandmother," said Mokanyane. "They don't know anything. It's hurting them that they cannot bury her. They are just waiting and waiting."
Mokanyane has submitted an application for a protest march on 19 April. "We are urging the police to investigate Smous' murder. We are urging them to listen to the cries of the LGBTI and to take to heart our issues."
On Tuesday, a memorial service was held for Smous at the Constantia Hall in Maokeng. According to Thabiso Mogapi wa Tsotetsi, Chairperson of Action For Social Justice International, the venue was packed with activists and members of the community who came out to commemorate her life.
"We all just want her to rest and to be respected," said Mokanyane. "We also want [her killers] off the street because we don't know who will be next."